Actor Michael Biehn adds his signature to Mark Twain Cave | Culture & Leisure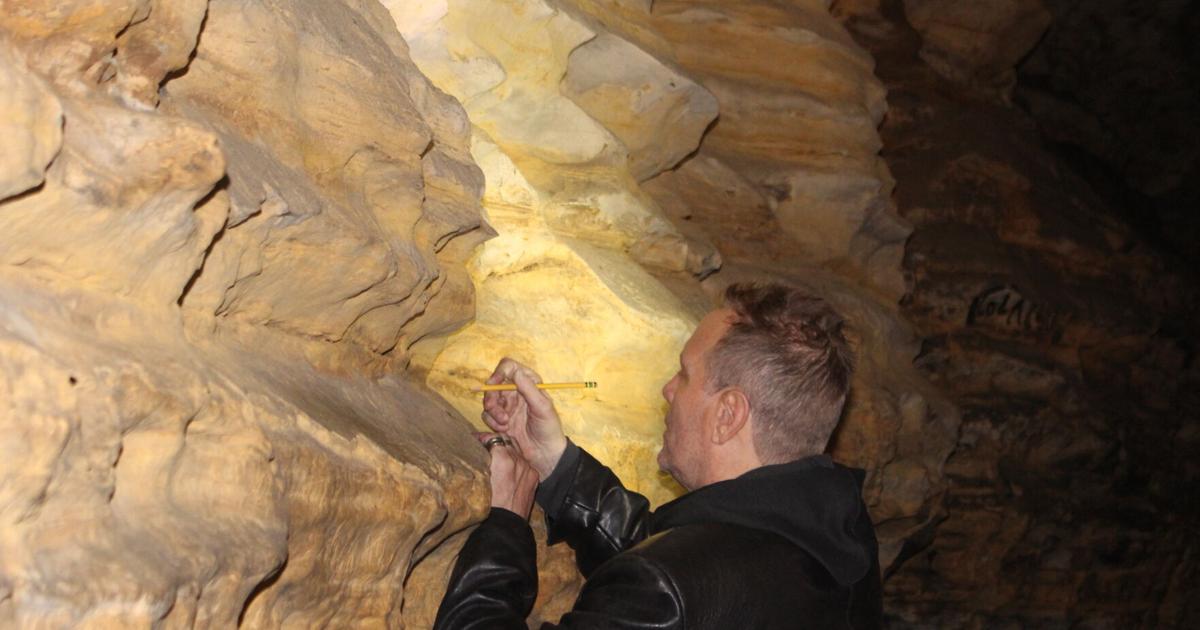 HANNIBAL, Mo. — Michael Biehn signed his name inside Mark Twain's cave on Friday, marking a historic moment ahead of his appearance at Big River Comic Con 2022.
Father and son Todd and Austin Curry, co-owners of Mark Twain Cave, accompanied Biehn as he marveled at the intricate passages, stories of a young Sam Clemens and signatures, including those of the framed signature of Jesse James and Clemens, discovered in 2019 by Cindy Lovell.
Biehn has appeared in several movies and shows, including "Tombstone," the Star Wars TV series "Mandalorian," "Terminator," "Aliens," and "The Walking Dead."
Big River Comic Con 2022 director Debbie Logue and Mark Dodson were among the group visiting the Mark Twain Cave. Dodson has used his voice talents in shows and movies like "Gremlins", "Day of the Dead", "Star Wars: Episode VI – Return of the Jedi" and Star Wars: Episode VII – The Force Awakens".
Dodson signed his name in 2021 near Twain's signature. He relished the chance to return to see his signature, Clemens' signature, and to see Biehn add his name to the legendary collection inside.
The Currys talked about the history surrounding Jesse James, who signed his name inside the cave, as well as Mark Twain, who visited the cave as a young boy, like many children of Hannibal l 'did.
Biehn was thrilled to have the chance to explore the historic district where Twain drew inspiration for his literary characters. He explained how important story and writing have been to him throughout his acting career.
Biehn recalled his childhood years in Lincoln, Neb. He loved to walk every day in front of the house of William Jennings Bryant. He recalled watching how the house was restored to its condition when Bryant was running for President of the United States.
"Thanks, guys," Biehn said after carefully signing his name. "I am honored."
"History has been made," Todd Curry said.
As the group made their way through the passageways, Curry noted how old tour guides talked about seeing John Lennon's signature near the Grand Avenue section of the cave. The Currys also searched for this signature among the collection of approximately 250,000 names stretching to the ceiling of the cave.
"Our thing is when does the story end? It never stops," Todd Curry said. "When people signed up years ago, it was like today. And here we are, 200 years later, admiring their signatures. And 200 years from now, my great-great-great-grandchildren Will they bring people to see his signature? The story never ends."
After the celebration inside the cave, Logue was on his way back to the Tabernacle of Praise recreation complex to welcome vendors, competitors, celebrities, artists and visitors of all ages over the two day festival.
Logue had a long to-do list before Big River Comic Con's big weekend. She has received messages from people in Kansas City, Nebraska, Oklahoma and Kansas planning to attend the event.
"It's been extremely busy, but everything's going really well," she said. "We are super excited about this year. I think we are going to double our numbers.
More information about Big River Comic Con is available by visiting the event's Facebook page or bigrivercomiccon.com.