From Hollywood to Saint Bizarre! From Broadway to Oddway: Actor, writer and NH icon Richard "Dick" Backus launches into public service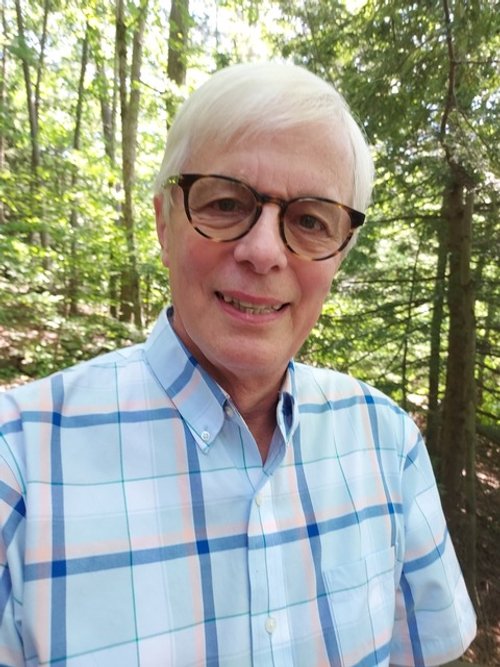 By WAYNE KING, NH Secrets, Legends and Lore
If you saw a picture of Dick Backus and thought – "I think I know him!" maybe it's because you're a certain age when you've watched soap operas like Ryan's Hope or you went to see Eugene O'Neill's "Ah Wilderness" at the Ogunquit Playhouse, or you even went to see "Butterflies are Free" on Broadway. These are just a few of the gems Richard Backus, born and still living here in New Hampshire, has under his belt.
Today, however, you're more likely to find him knocking on doors in his hometown of New Boston or one of the other towns in Hillsborough District 42 running for the NH Legislature.
This was not how Dick saw himself spending time in his golden years, but his deep concern for the loss of community among our citizens and elected officials drew him into the fray. I recently met Dick on Zoom and we discussed running for Legislature, always with the common thread of community rebuilding running through the discussion and how rebuilding impacts and is affected by so many of the challenges we face in our lives. How can we rebuild a sense of community when our commitment to public education is under fire? How do we restore community when over 50% of our population is denied bodily autonomy? These and other issues forced Dick to do something he never planned to do, to run for office.
Listen now: https://www.listennotes.com/podcasts/nh-secrets-legends/from-hollywood-to-holy-weird-F3Rr5uLIa69/
Wayne D. King
64 Monroe Road, Bath, NH 03740
603-530-4460 Cell
[email protected]
@wayne_d_king: Twitter
http://bit.ly/WayneDKing
Upcoming migration to Anamaki.com
Podcasts
Secrets, legends and traditions of New Hampshire Chosen as the NH Podcast of 2019 by NH Press Assoc.
*NEW!*
Mindscapes – Wayne King Fine Art
New Hampshire – A love story in pictures and words
*Sacred Trust, a novel*
"The Monkey Wrench Gang Meets the Third Industrial Revolution"
The view from Rattlesnake Ridge
New England Newspaper & Press Assoc. Wayne King's award-winning column on InDepthNH.org, NH Center for Public Interest Journalism.
Join the mailing list to receive occasional updates on upcoming events
and new footage of Wayne.
Coming:
Common sense for our time
Firm hands and open hearts
Renewing the American Idea in the Post-Trump Era